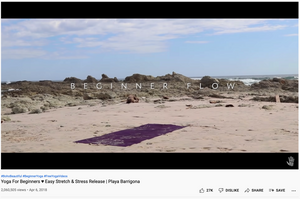 Your body needs all kinds of good things, including movement
We know that wellness is not limited to only one or two things right?
What you eat, how you live and deal with this crazy life we are all trying to make sense of, and exercise with the right amount of sleep; these are only a few of the important wellness and health disciplines we need to make a routine part of our lives if we want to be able to stay healthy.
Yoga remains one of the best was to address exercise, strength, health and mindfulness.
Getting onto your mat to yoga becomes the greatest challenge in our demanding lives, but when we do get onto our mat, the magic happens.
Taking the time to discover the many benefits of yoga and stretching allows us to see how we can incorporate some of the best elements to our routines, and the payoff is almost immediate.
Yoga for beginners or for experienced yogis makes so much sense.
Have you tried it?
---
1 comment