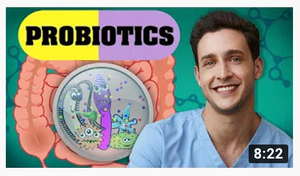 Probiotics Benefits + Myths | Improve Gut Health | Doctor Mike
The discovery of the microbiome has started off a huge cascade of new research as well as the launch of some questionable health products. I think that the idea that we are covered inside and out by bacteria, with the majority of it being helpful, is pretty mind-blowing.
Hear what Doctor Mike has to share about Probiotics and the Microbiome that makes us feel like we're on the right track to great gut-health.
We know that the work that our Spore Probiotics does to help replenish your gut microbiome is scientifically proven to improve your health and this gives us reason to celebrate.
BTW our FLORISH Spore Probiotic with Fulvic Acid has enjoyed many great reviews from all kinds of people and we are certain that Doctor Mike would add our product to his probiotics to recommend to patients.
FLORISH Spore Probiotics can be used by anyone, including children and pets!
---
4 comments