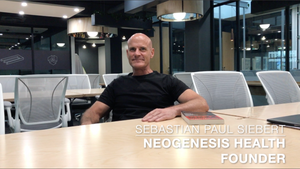 Hear from the Founder on NeoGenesis Health
Sebastian Paul Siebert survived when most anyone else should have died.
Meet the Founder of NeoGenesis Health and hear his tell the story about his mid-air-collision that started the journey of full recovery from the hospital bed and coma where he found himself.
Sebastian shares a few key insights and some of the detail that has been part of his recovery and now his inspiration to help other get back to their Neo-Genesis of their health.
You will hear him share a bit about the book he authored and also where we are starting to move towards in terms of new medial and other techniques that are being taken from mystical theories to scientific fact.
In preparation of the launch of the NeoGenesis Health Website, Sebastian chats candidly to William Price in this interview and reveals a few interesting thoughts and ideas on what we should all be doing a lot more of - taking care of ourselves and getting back to the basics, the beginnings...
---
3 comments