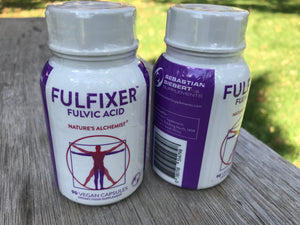 FULFIXER Fulvic Acid LAUNCHED in South Africa
We are so proud to announce that the latest Fulvic Acid product from Sebastian Siebert Supplements has been officially launched in South Africa today.
FULFIXER Fulvic Acid is Nature's Alchemist. 
FULFIXER FULVIC ACID IS THE BEST WAY FOR YOU TO IMPROVE YOUR BODY'S BIO-PROCESSES ON A CELLULAR LEVEL.
The Fulvic Acid in FLUFIXER is the perfect catalyst to every process in your body, at a cellular level.
The 90 capsules packaging offer 3 capsules per day (Adults) and will last for one full month.
For all the product information, click here.
FULFIXER Fulvic Acid is available now through the Stockists & Practitioners throughout South Africa.
---
1 comment