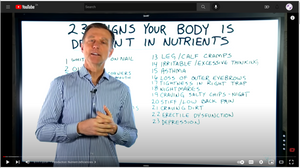 23 Signs Your Body Is Deficient in Nutrients
Dr. Eric Berg DC Bio:
Dr. Berg, age 56, is a chiropractor who specializes in Healthy Ketosis & Intermittent Fasting.
He is the author of the best-selling book The Healthy Keto Plan, and is the Director of Dr. Berg Nutritionals. He no longer practices, but focuses on health education through social media.
---
161 comments